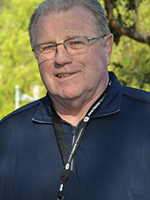 Bruce K. Wilson
Founder & Chairman
Described as a mentor, advisor and true friend, Bruce Wilson stands as one of the visionaries in the landscape business, with insights and expertise developed over forty years. He's quietly played a major role in leading the transformation of the industry from small, family-run operations to larger, dynamic companies driven to the highest performance standards.
Never the center of attention, Bruce listens intently, asks probing questions and facilitates the most effective paths to success. According to an industry colleague, "his ability to get to the heart of the matter and to offer constructive, experiential advice is truly standard setting."
As founder of Bruce Wilson & Company, Bruce has brought together many of the industry's most accomplished business owners, as well as the next generation of energized thought leaders.
Bruce served for three decades as president of ValleyCrest Landscape Maintenance and vice president of its parent corporation, ValleyCrest Companies (BrightView). Prior to rebranding as Bruce Wilson & Company in 2015, he was co-owner and partner Wilson-Oyler Group. He was also co-owner of the Palm Desert, Calif.-based prestigious commercial landscape services company, Conserve LandCare.
Bruce Wilson & Company has been the official facilitating partner for NALP (National Association of Landscape Professionals) peer groups since 2013.
During his career, Bruce has held numerous industry leadership positions, including serving on the Board of Directors for the NALP's Foundation and chairing the association's landscape management committee.
Bruce holds a degree from Cornell University in Ornamental Horticulture. A resident of Scottsdale, Arizona, Bruce is a nationally recognized author, a frequent guest speaker and panelist at green industry events, and a monthly columnist for Lawn & Landscape magazine.